Our last day in Vegas was a world tour of sorts...starting in Paris. Early that morning, though, we were woken from a deep sleep at the hotel by a blaring alarm and the announcement: "There has been an emergency reported in the building. Vacate your room immediately and do not use the elevators." I'm guessing there were about 5000 people staying on the 60 some floors of the Trump, and we all dazedly herded through the stairwells until we got the all clear. We had to go to the lobby to get a copy of our room key and had to stand in line forever to get back up the elevators. We later heard a kid had pulled the fire alarm. So we were up and ready to go after that! I had always wanted to eat at the restaurant near the Eiffel Tower in the Paris called Mon Ami Gabi, so we went and it was delicious. I had the fluffiest, best omelette and thick, crispy bacon. I think I'd like to stay at the Paris next time I go to Vegas.
After a cruise through Rome and Caesar's Palace (and a couple of purchases at Anthropologie for me), we were off to Venice for a quick walk around the Venetian.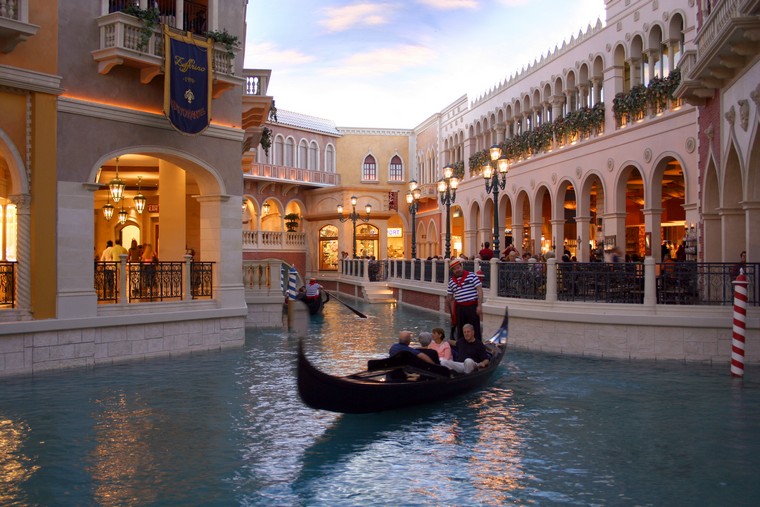 We got the news of Michael Jackson's death shortly after we arrived in Vegas, and all over town, tributes to him could be seen and heard. Most notable was the impromptu shrine around his wax figure that had been pulled outside Madame Tussaud's at the Venetian. Jackson was definitely a figure from my childhood...I remember listening to his Thriller tape with my cousin Jeremy when we lived in Edmond and being too scared to listen to the actual Thriller song because of all the scary effects added to the beginning and end. I don't know what to make of the person he became later in life, but so many of his songs bring back memories of growing up for me and businesses were playing them everywhere we went in Vegas.
I remembered seeing this store on the Jackson interview that ran on TV several years ago, and I remembered him spending a ton of money on the most gaudy stuff ever. The store was playing a tape of that interview when we passed by.
Jackson bought an $89,000 chess board at the Venetian...me, I just bought a $14 creme brulee gelato. We were unaware of the price until we paid, so Ryan made sure I ate every last drop, which wasn't hard...it was yummy.
We walked on into the Palazzo, a relatively new extension to the Venetian that I have never visited before. I have to say I liked it's airy, fun feel even better than the very ornate ceilings of the Venetian.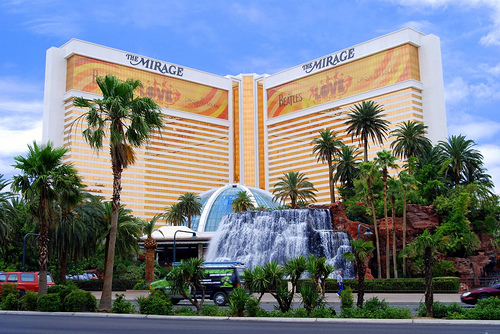 That evening, we headed to the desert, I suppose, and the Mirage...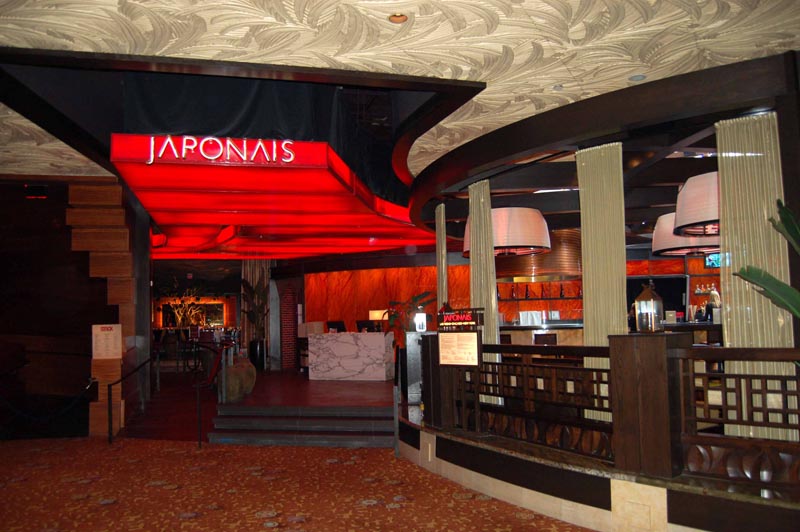 ...for a Japanese dinner. This place, like Firefly, also had the option of smaller, appetizer-like dishes to share, but we all ended up opting for our own, larger dinners. I had, and would highly recommend, "The Rock," a plate of sashimi-sliced steak that you cook yourself on a really hot rock they bring out to you. Delicious. Accompanied by sweet potato fries, which have, incidentally, been my obsession of late. Everyone else liked their food, too, and we have our friend Pear to thank for suggesting this place as his "favorite Japanese steakhouse in the country."
We walked around the Mirage a bit after dinner. I am not much of a gambler myself, but if I were to play the slots, I would play this ebay machine. ebay and I do in fact have a long, happy and rewarding relationship that I'm sure would rub off somehow as I played.
To me, we saved the best for last on our trip: The Beatles LOVE show by Cirque du Soleil. I had been wanting to see it and it did not disappoint. I guess the last stop on our world tour of the day was England?
If you've seen the movie
Across the Universe
, (a movie I really like and use in my classes to connect music to poetry and storytelling) you might have a feel for what this show is like...a story and a reflection on history set to the iconic songs of the Beatles. Like nothing I've ever seen before though, and absolutely beautiful.
The show ended with "All You Need is Love" and different shots of the four Beatles running on huge screens all around the theatre. I loved watching the faces of people around my parents' age in the audience...you could tell each song brought back so many memories for them, the way Michael Jackson's did for me, and probably even more meaningfully. If you have a chance and you like the Beatles at all, you should definitely see this show. I would go back a second time. I LOVEd it!
We were up at 5:30 am the next morning to catch our flight home. We got home around 2:30 our time, and I took a nap and then headed to Rogers to get Macauley. So I woke up in Nevada and went to sleep in Arkansas and traveled 1100+ miles that day. It was so good to see my boy and my d-o-g. Next trip to Vegas, I want to take Macauley and maybe stay in one of the hotels like Mandalay Bay that has an awesome pool. This trip, though, was a good one. Good times with good friends. I think many people haven't been to Vegas think it's all feathers and floozies. You can find both there, but there's so much more to see and do in Vegas that doesn't involve debauchery of any kind. (Note: Many of the pictures on these posts are ones I took. Many are not. I hope that's okay.)