We had a great time in fabulous Las Vegas last week. Ryan and I flew in around 4:00 Vegas time on Thursday and went straight to the Trump International to meet Adrian and Stephanie, who had arrived the day before.
The hotel was really nice (although a progressively more painful walk from the main attractions on the Strip as the days went on), as you would expect. We settled in and unpacked our suitcases into the built-ins, something Ryan and I have only started doing on our last few trips...makes such a difference not to live out of a suitcase.
I got really used to the TV recessed in the mirror...I do not enjoy drying and fixing my hair and getting all ready, but the TV made it so much better.
After hanging out at the pool for a bit, we got ready for our evening and met the Rhoads in the lobby. Ryan teased me about taking a picture of the little checked chair, but I could totally see it worked into the black and white scheme at our house. Cute.
We decided on dinner at Maggiano's in the Fashion Show Mall, just across the street from our hotel. I had been there once before with Molly. We had spinach dip and an order of fried zuchinni as appetizers, and I had a filet with these really delicious scalloped potatoes for my meal. Way too much food. Super rich and yummy. A really great place to eat in Vegas.
Then we walked (really quickly because we had to pick up our tickets at Will Call) to the Bellagio to see O by Cirque du Soleil. I had seen Ka on one of my other visits, so I knew a little bit about what to expect, but O is performed mostly in water. The stage is a pool that changes depths throughout the show. The story was hard to follow, and I think maybe there wasn't really a "story" at all, but rather a series of interesting scenes and stunts, like a circus on an acid trip or something. It's hard to explain...but I did enjoy it.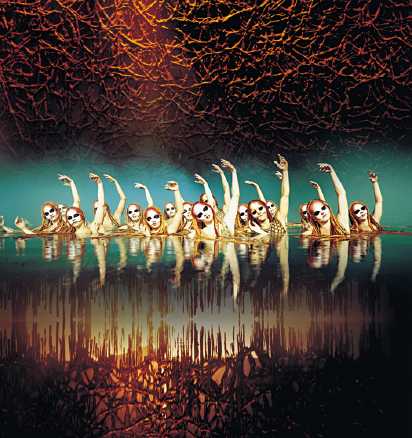 By the time the show let out around midnight, it was 2 am our time and Ryan and I were exhausted after a long day of travel and fun that had started 19 hours before for us. We walked back to the hotel in a fog and fell asleep to the sounds of Vegas, which don't really change no matter what time it is.